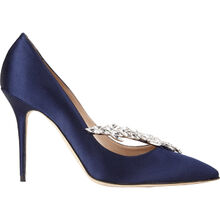 Olivia Jane McAllister-Thames is the daughter of Cecilia Tyburn Thames and George McAllister. She attends St. Paul's School in Hammersmith and has an older brother, Stephen, from the same parents.
She appears to have inherited some of the characteristics of the Genius loci as she was also able to 'smell' that Peter was a practicioner.
During the events in The Hanging Tree she was studying for several GCSEs including French. She is a fan of British singer-songwriter Joan Armatrading.[1] She does not have a driver's license and does not know how to drive.[1]
Events at One Hyde Park
Edit
Olivia attended the party at One Hyde Park where Christina Chorley died. When questioned by the police she admitted to supplying ecstasy for the party and was subsequently arrested.[1]
Peter Grant later uncovers that Olivia admitted to buying the drugs in order to protect her girlfriend, Phoebe Beaumont-Jones.[1] The reveal of Olivia's girlfriend was the first disclosure of her sexual orientation to her mother, Lady Tyburn, although Olivia admits that she had previously told Fleet she was lesbian.
References
Edit